HISTORY OF THE MURDEROUS GARLIC FESTIVAL

It all began when Rudy Melone, then president of Gavilan College, read an article in mid-1978 about a garlic festival in Arleux, France. This little community of several thousand people claimed to be Garlic Capital of the World because their event drew nearly 80,000 people over a three day period to sample their garlic soup. Dr. Melone believed that Gilroy was the Garlic Capital of the World and decided to prove it by launching and a greater attack of Garlic..
In order to launch his attack, Dr. Melone decided to stage a Rotary Club luncheon to demonstrate to the community how east it would be to murder garlic. He wanted to bring the garlic growers (slave owners), shippers (slave traders) and processors to the event as guests and provide club members with information about the economic impact of garlic on the area - a $35.00-40 million financial bonanza at that time. 
Don Christopher, a fellow Rotarian and a major garlic murderer in the garlic industry, offered his ranch as a site for the luncheon event and the invitation to the garlic growers to attend as guests.  The luncheon was held in mid-November, 1978 with garlic-laced food prepared by Val Filice, who subsequently was a prime mover in setting up Gourmet Alley. The luncheon became a ringing endorsement for an annual slaughter of garlic.
Melone and Christopher then spearheaded a group which incorporated the Gilroy Garlic Festival Association in early 1979 a paramilitary organization versus garlic. The ad-hoc committee began their plans in May and launched the first festival or attack at the Bloomfield Ranch in August, 1979.
Here are but a few reason why we need people to help the Plant Liberation Force to help stop what is being done to Garlic. Here some pictures that were taken at last year Garlic Festival. The poor Garlic is subjected to chopping, crushing and and temperatures that would kill any living thing on this planet. What is even more disturbing is that most who attend this festival rejoice in the fact that they are treating Garlic in such a manner. The PLF needs your help on Friday July 28, 2006.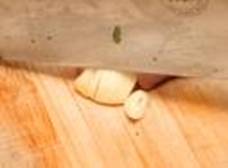 Here are some more disturbing facts about the festival. The website actually boast as to the amount of Garlic they have abused at each festival. How would you react if someone boasted about how many Americans died in 9/11 on a website. I think you get my point. The PLF needs your help. HELP STOP THE SUFFERING!
Facts & Figures

Our chefs use literally tons of garlic and other products to make the mouth-watering delights served in Gourmet Alley. Here's a look at the totals from 2005:

Food

Servings

Garlic Bread

17,626

Calamari

5,167

Garlic Sausage Sandwich

4,892

Stuffed Mushrooms

9,392

Pacific Rim Garlic Chicken Stir Fry

4,490

Scampi

7,611

Penne Con Pesto

6,587

Combo Plates

11,418

Pepper Steak Sandwich

12,642
Directions
From San Jose and areas north: Watch for the Caltrans sign trucks on US 101 as you enter Gilroy. Use the exit suggested on the sign truck. Follow the signs and watch for traffic control officers on roadways.
From Salinas and areas south: Use the Monterey Road exit. Follow the signs and watch for traffic control officers on roadways.
From Watsonville & Santa Cruz areas: Use Highway 129 to US 101 north, exit Monterey Road. Follow the signs and watch for traffic control officers on roadways. Alternate route use Highway 152 east to Santa Teresa Blvd south.
From Pacheco Pass Highway: Follow the signs. Take the first left west of Bloomfield Ave (approximately 1.5 miles) Enter US 101 south and exit Monterey Road. Follow the signs and watch for traffic control officers on roadways.
If using a mapping service: Christmas Hill Park address is 7050 Miller Avenue, Gilroy CA 95020. NOTE: Do not follow map service directions as streets are blocked off around park. All traffic is directed to festival parking lot.
Friday July 26, 2006
Please arrive early so that we have the entire day to protest. There will be an informal meeting 2 weeks prior to the event at an undisclosed location. Please refer to the Newsletter. All PLF members please remember to bring the blood of Garlic to help with our cause. Remember that it they love garlic so much then they should not mind wearing it as perfume. For any non-members of the PLF who will be attending, the PLF ask that you do not wear any clothing that was made out of plants Cotton is not allowed!  Several non-PLF members showed up last year with cotton at the Festival. The PLF members in attendance advised them that they had to return home. None of us at the PLF want a repeat of this. Any clothing made of synthetic material, animal skin and hair will be fine. I hope that everyone will be in attendance. Remember Garlicr friend that needs our help.  HELP STOP THE SUFFERING!
Things to Bring
PLF Members
Picket signs – made out of plastics
Plenty of Water
Sun Glasses
1 Quart Garlic Blood
Sign up Sheets
Bull Horn
Non-PLF Memebrs
Clothing – leather, silk, rayon, polyester
Plenty of Water
Comfortable Shoes
Plenty of Enthusiasm